Buying Guide for Schools & Clubs
With a 'No mouth guard, No Play' Policy, gum shields have become a mandatory kit list item.
Here at Game Guard, we know how easy it is for pupils and members to lose or forget their gum shield, and how this impacts on the training for the coach and the rest of the team. But there is no need to be caught short, we supply packs of x10, trusted and purchased by thousands of schools and clubs for over 25 years.
By buying in bulk, you can take advantage of even lower pricing. This cost saving can be passed on directly to your pupils and members or used as additional funds for your school or club.
​
Game Guard Gumshields are high quality, easy to fit, mouthguards that provide optimum protection to pupils and member's teeth and mouth, giving you peace of mind at an affordable price.
​
If you need more information or would like some help on how to choose the right gum shields for your school or club, please refer to our Buying Guide - FAQ below.
Buying Guide - FAQ
GAME GUARD RANGE
What type are Game Guard gumshields?
---
Game Guard Gumshields are Boil & Bite.
---
What is the difference between a single and a double gumshield?
---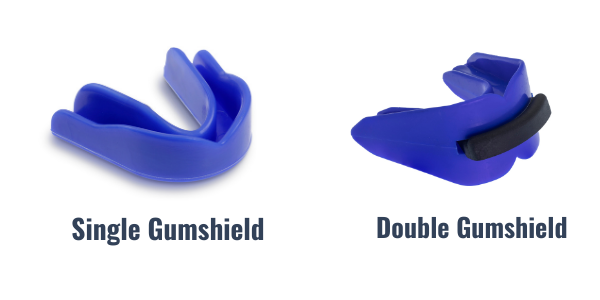 Single gumshields cover the top teeth only.
Double gumshields cover both top and bottom teeth.
---
What sports are Double Gumshields suitable for?
---
Double gumshields are suitable for anyone who needs extra protection for the mouth, gums, and jaw; MMA, boxing, Muay Thai, Rugby players, Hockey players, American footballers, Taekwondo, Karate, Judo and Jiu jitsu players.
---
What colours do Game Guard Gumshields come in?
---
---
What pack sizes are Game Guard Gumshields available in?
---
Single Gumshield:
Available in two sizes – adult (13+ years) & junior (8+ years)
Available as single item, packs of x10 or bumper packs x100
Double Gumshield:
Available in Adult size only
Available as single item or packs of x7
---
Do Game Guard Gumshields contain Latex?
---
No, Game Guard Gumshields do not contain latex.
---
Are the flavourings and colours used in the manufacture of Game Guard Gumshields safe?
---
Yes, all the flavourings and colours are in line with the European Chemical Agency (ECHA) list and are deemed harmless.
---
What flavours do the Gumshields come in?
---
Gumshields do not taste of anything, however if any of your players have a weak gagging reflex then wearing a gumshield can potentially make them gag. To enhance the experience of wearing a mouthguard, our flavoured range of gumshields are available to trick the senses and hopefully combat the potential gagging problem. Game Guard are available in the following 3 different flavours in clear and coloured.
Spearmint (Green or Clear)
Strawberry (Red or Clear)
Blackcurrant (Black or Clear)
---
How long will a Game Guard Gumshield last?
---
Essentially it depends on how often a player uses their gumshield, whether they look after it and of course, whether they lose it.
---
---
FITTING YOUR GUMSHIELD
How easy is it to mould and fit a Game Guard Gumshield?
---
Game Guard gum shields are very quick and easy to mould, all you need to do is follow the instructions provided which involves placing the mouthguard in boiling water for no longer than 40 seconds.
Before moulding allow the gumshield to cool to a suitable level, and carefully place the gumshield around the upper teeth, bite down firmly whilst sucking in strongly, use your fingers to press the edges of the gumshield into your teeth and gums for 30 seconds.
Remove the gumshield and cool under a running cold tap for 60 seconds. Replace the gumshield into the mouth and test for fit and retention. The gumshield should not fall out and should feel comfortable.
The fitting instructions form part of the rear label, which need to be peeled back to reveal the information. They can also be found here
---
Can a Game Guard Gumshield be remoulded?
---
Yes, if the fit is not quite right, then yes, just repeat the fitting process again.
---
How do I know if the gumshield has been moulded correctly?
---
It should fit snuggly around the teeth and not fall out when you open your mouth. If it does then you need to remould it by repeating the fitting instructions.
---
Can a Game Guard Gumshield be worn with braces?
---
They can but it is best to consult a dentist as to the suitability.
---
How often should gumshields be replaced?
---
Depending on the player's age and how often they use it, the gumshield may need replacing regularly.   If the players teeth are still growing, new teeth will be coming through and moving into position, so their mouth guard may become too tight or too loose and will need to be remoulded to fit the new shape of their mouth.  Game Guard gumshields are an easy self-fit option, at a fantastic price and are available to buy in value packs, so will potentially last for the entire school year or sports season. We recommend replacing the gumshield with each season to maximise hygiene and protection benefits.
---
How do you know when the gumshield needs replacing?
---
Signs that players need a new mouthguard include the following: There are permanent flaws. Boil & Bite mouthguards can often be remoulded more than once to adjust the shape, however reforming them will not address structural issues like cracks. The player's mouthguard no longer fits securely in their mouth. If they must clench their teeth to keep the mouthguard in place or can loosen it easily with their tongue, it no longer fits them as it should. The shape of their mouth has changed. Whether they have had dental treatment or whether they are still growing, it is imperative that they have a mouthguard that fits them properly.
---
How do you store and clean your gumshield?
---
Always clean the gumshield with cold water following use.  Do not use mouthwashes, toothpaste, or other detergents.
Clean the gumshield box with warm water.  Always ensure that the gumshield is dry before storing in the box.
Always keep the gumshield in its box when not in use.
Inscribe the user's name indelibly on the gumshield box.
---
---
GUMSHIELDS OVERVIEW
Why is a Gumshield Important?
---
Gumshields prevent injuries to the mouth including teeth, gums, cheeks, and jaw. Between 19 - 39% of dental injuries happen whilst playing sports. Mouthguards protect your teeth and help cushion a blow to the face, minimising the risk of broken teeth and injuries to lips, tongue, face, or jaw. They help prevent chipped, broken, and knocked out teeth.  They protect your player's lips, tongue, face, and help redistribute forces from a blow to the head. While a mouthguard won't prevent concussion, it can reduce the severity of the injury.
---
Which sports require a gumshield to be worn?
---
If the sport involves a ball, stick, or close combat, then your player's will need protection.
If there is a chance that a bat, stick, ball, or another person could hit them in the face, especially around the mouth, then they need to wear a gum shield.
Injuries can happen at any time from anybody, whether it's a competitor, teammate, or even themselves inflicting the injury, gumshields provide protection and peace of mind.
Game Guard Gum shields are suitable for all contact sports including but not exclusively the following:
Rugby, Hockey, Football, Lacrosse, Cricket, Boxing, Martial Arts, MMA, Basketball, Rounders, Skateboarding, Mountain Biking, Scootering and Horse Riding.
---
Why choose a Game Guard Gumshield?
---
All gumshields are made here in the UK and are CE Marked by SATRA.
Our gumshields have been purchased and trusted by thousands of Schools and Clubs for over 25 years.
By choosing Game Guard Gumshields you can purchase with confidence, direct from us, the manufacturer.
It is important to remember that no mouth guard will eliminate the risk of injury, but this risk is significantly reduced from not wearing one at all.
Game Guard Gumshields are high quality, easy to fit, gumshields that provide optimum protection to player's teeth and mouth, giving peace of mind at an affordable price.
---
What different types of mouthguards are available?
---
There are 3 varieties of mouthguards on the market:
Stock / Ready-Made / Instant Fit: these are available in a range of premade shapes and sizes, however these do not offer a comfortable fit or high protection level because of their one-shape, one size, fits-all build.
Boil-and-bite / Mouth Adapted: a middle-ground between premade and custom-made. Named after the process to mould them, which is to place them in boiling water before biting into them to leave an impression of your teeth.
Custom-made / Custom Fit: Moulded to your teeth by a dental professional. A dentist will take an impression of your teeth and gums, then orders a guard personalised to your bite. This is the most expensive option and can cost £35 upwards.
Although there are a few different kinds of mouthguard available, the general function is the same: they help protect your mouth and teeth from damage.
---
What does the Game Guard range consist of?
---
The Game Range of Gumshields consists of the following
Single Gumshield in Adult and Junior Sizes

Double Gumshield for upper and lower teeth - Available in Adult size only.
Most children will only require a single gumshield. Double gumshields are more commonly used by older children in boxing and martial arts.
---
Are Game Guard Gumshields safe to put in your mouth?
---
Game Guard gumshields have excellent safety credentials and offer good value at an affordable price.
The entire range has been CE certified by SATRA and tested in accordance with BSI DD 253:2001; which means Game Guard gumshields meet the high standards set for size, fit, retention and most importantly level 2 for transmitted force (impact testing) and quality.
Game Guard gumshields provide optimum protection to your player's teeth and are equally as effective as some of the more expensive alternatives.
To acquire CE Testing, gumshields must be both impact and innocuous tested.
Impact measures the amount of energy that is transferred to the mouthguard to your teeth if you sustain a blow. The better the mouthguard is at absorbing shock and diffusing impact, the better protected you will be.
CE certified mouthguards also undergo chemical analyses to ensure that the materials they are made with are innocuous and will not harm users. Various tests are conducted to confirm that chemicals present in the material will not leech into a person's body in dangerous quantities, that toxic elements cannot be scraped off due to biting or licking, and that certain PAH's either are not there or are found in very minimal quantities.
Other compounds that should not be present include Formamide, BPA and Pthalate (DEHP) which are not tested for in the CE approval process.
---
Where are Game Guard Gumshields Manufactured?
---
Game Guard Gumshields are manufactured by Paul Norman Plastics Ltd, a Bristish plastics injection moulding company based in Stroud, Gloucestershire.
---
---